Dedication and persistence make dreams come true
And with Lunelli it was exactly like that. We were born in 1981 from a dream that Antídio Aleixo Lunelli and Beatriz Ender built together: Turn fashion into unforgettable experiences. The name was Lunender, and, already at that time, the couple had the goal of offering excellence to the market with extreme high quality products.
In 2009, Lunender became part of the Lunelli Group, when Dênis Luiz Lunelli got in charge of the presidency to carry on this dream with the challenge of preparing the company for a new phase of growth.
Many other dreams have been fulfilled since then
Today, we no longer use the word Group and we are Lunelli, making the family´s name come ahead of our business, because we believe that we are much more than a Group. We are a big family called Lunelli.
Our factories are located in Santa Catarina, São Paulo, Ceará and Paraguay. They grow day by day thanks to the commitment and passion that our employees feel for making fashion with significance.
165,000m² of built-up area
5 thousand direct and indirect workers
23 million pieces produced per year
We work committed to the constant improvement and dedicated to participative management, education, social and environmental development and life quality, and we know that these factors are responsible for our excellent performance in the textile market.
Today, in numbers, Lunelli represents
Million pieces produced per year
direct and indirect workers
thousand m² of
built-up area
Improve people's lives through opportunities, products and services.
To be the most respected Fashion Textile Group in the country.
Enthusiasm;
Simplicity;
Obsession per results.
"Promote the success of our clients through the happiness and satisfaction of our employees".
Dênis Luiz Lunelli
Uma trajetória de sucesso se constrói passo a passo
Conheça momentos especiais da história da Lunelli.
Início das Atividades
Antídio Aleixo Lunelli e Beatriz Ender abrem uma pequena venda de toalhas e fraldas em Jaraguá do Sul (SC): o Comércio de Toalhas Lunender.
Inauguração Beneficiamentos
Início das atividades da unidade Lunelli Beneficiamentos, situada em Corupá/SC.
Malha em rolo
Deu-se início à Lunelli Têxtil, produtora de malha em rolo.
Ampliação
As instalações da Lunender foram ampliadas, a empresa investiu em novas máquinas e tecnologias e sua capacidade produtiva aumenta em 40%, um crescimento vertiginoso.
Nova Presidência
Dênis Luiz Lunelli assume a presidência do Grupo e inaugura as unidades de Avaré/SP e Maracanaú/CE.
Grupo Lunelli
Em 2011, foi criado o Grupo Lunelli e a Lunender se tornou somente nome da marca feminina pertencente ao grupo.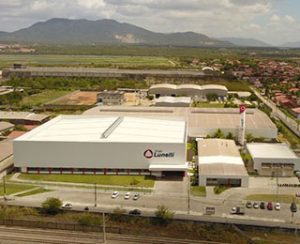 Ampliação Nordeste
Foi ampliado o parque fabril da Unidade Maracanaú/CE, onde as operações foram dobradas.
35 anos de Moda com Significado
Em 2016, o Grupo Lunelli comemorou 35 anos de atuação. São 35 anos de histórias para contar, inteiramente dedicados a fazer pessoas felizes e realizadas.
Nova Unidade de Beneficiamentos
Em 2019 expandimos nossas atividades no Paraguai, com a nova unidade de beneficiamento têxtil. Também em 2019 realizamos a abertura do Espaço Hangar 33 em Jaraguá do Sul/SC.
A Aquisição
Antídio adquire o primeiro tear circular e entra com maior força na atividade comercial. Nasce assim a Lunender Indústria Têxtil, exclusivamente dedicada à malharia e confecção próprias.
Novas instalações
A Lunender produz volumes cada vez maiores. A unidade de Jaraguá do Sul (SC) chega ao seu limite de expansão e, em 1996, transfere suas instalações para Guaramirim (SC).
Criação da Abimex
Nova unidade inaugurada, Abimex vem complementar os negócios junto à Lunender.
Lez a Lez e Alakazoo
Duas novas marcas foram criadas e se juntaram ao grupo. A Lez a Lez, direcionada à mulheres jovens e a Alakazoo, especializada em roupas infantis.
Lunelli Colors
Inauguração de mais um parque fabril, a Lunelli Colors.
Hangar 33
Em 2012, surge a marca Hangar 33, dedicada ao público masculino. A marca traz em seu DNA a paixão pela aviação.
Operação Paraguai
Início das atividades fora do Brasil, com expansão do parque fabril para o Paraguai, que passou a contar com uma fábrica.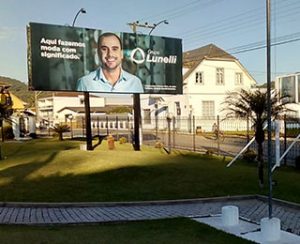 Luíz Alves/SC
Início das operações de camisaria na unidade de Luiz Alves/SC
39 anos de Moda com Significado
Em 2020, o Grupo Lunelli comemora 39 anos com uma nova campanha de Moda com Significado.
A successful trajectory is built step by step
Discover special moments in Lunelli's history.
Beginning of activities
Little dreams, big achievements. Antídio Lunelli and Beatriz Ender opened the Lunender towel trade, located in a modest point of sale of towels and diapers in Jaraguá do Sul/SC.
Lunelli Beneficiation Inauguration
Just the beginning. Lunelli beneficiation unit, located in Corupá/SC, started its activities.
Roll mesh
Details that make the difference. An year highlighted by the beginning of Lunelli Textile, producer of roll mesh.
Expansion
Dizzying growth.
Lunender's facilities were expanded, investing in new machines and technologies that increased the company's productive capacity by 40%.
New Presidency
Together we are stronger.
Dênis Luiz Lunelli gets in charge of the presidency of Lunelli and inaugurates the units of Avaré/SP and Maracanaú/CE.
Lunelli Group
Girl power.
In 2011 the Lunelli Group was created, making Lunender exclusively the name of the female brand belonging to the group.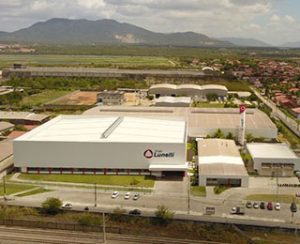 Northeast Expansion
New Horizons.
The industrial complex of Maracanaú Unit /CE was expanded, there, the operations were doubled.
35 years of Fashion with significance
In 2016, Lunelli celebrated 35 years of operation. There have been 35 years entirely dedicated to make people happy and fulfilled through fashion.
Enlargement
Expansion of activities in Paraguay, with a new textile Benefication unit. Also in 2019, we had the opening of "Espaço Hangar 33" in Jaraguá do Sul/SC.
40 years of Fashion with Significance
In 2020, Lunelli celebrated 40 years of Fashion with Significance. In this year we stopped using the word Group and now we are Lunelli, making the family´s name come ahead of our business.
Acquisition
Dedication to turn dreams into reality. Antídio acquired the first circular loom, boosting his entry into the commercial activity. Therefore, Lunender Textile Industry was born, dedicated exclusively to mesh and its own clothing making.
New facilities
Forward we move
Lunender starts to produce increasingly larger volumes. The unit in Jaraguá do Sul/SC reaches its expansion limit and, in 1996, moves its facilities to Guaramirim/SC.
Creation of Abimex
Welcome to the team.
New unit opened, Abimex came to complement the business side by side with Lunender.
Lez a Lez and Alakazoo
Everything can always get better. Two new brands were created and joined the group. Lez a Lez, focused at young women and Alakazoo, specialized in children's clothing.
Lunelli Colors
New Horizons.
Inauguration of another industrial complex, Lunelli Colors.
Hangar 33
Higher flights!
In 2012, was created the brand Hangar 33, dedicated to the male custumers. The brand brings a passion for aviation in its DNA.
Operation Paraguay
New grounds.
The beginning of operations abroad with the expansion of the industrial complex to Paraguay, which started to have its own factory.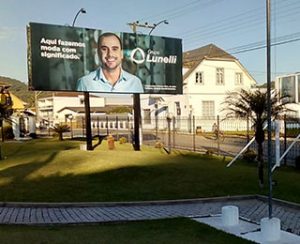 Garment expansion
Beginning of garment operations at Luiz Alves/SC unit.
In 2020, Lunelli celebrates 39 years of history with a new Fashion with Significance campaign.